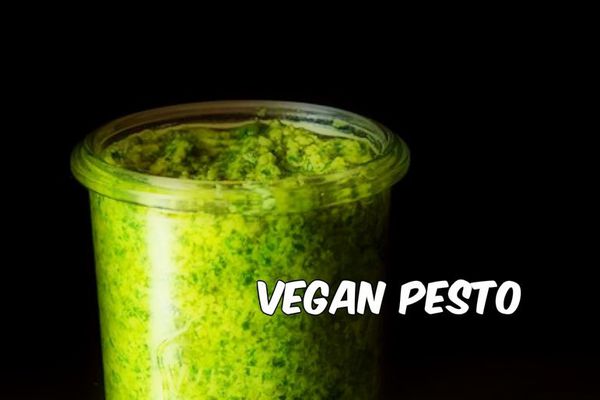 Làm 1 cốc đầy
2 cốc đầy ự húng quế tươi
1/2 cốc quả óc chó hoặc hạt thông
1-2 tép tỏi, băm nhỏ (nếu muốn)
1/2 chén dầu ôliu
Muối biển, tiêu
1 muỗng canh nước chanh
3 muỗng canh men dinh dưỡng
Chohúng quế, quả óc chó hoặc hạt thông, và tỏi vào máy xay.t
Sau đó, vừa xay vừa rót dần dầu ăn vào.
Thêm muối biển, hạt tiêu, chanh, và men dinh dưỡng, quay thêm vài vòng để trộn đều.
~~~~~~~
Makes 1 generous cup
2 cups tightly packed fresh basil
1/2 cup walnuts or pine nuts
1 to 2 cloves garlic, roughly chopped (to taste)
1/2 cup extra-virgin olive oil
Sea salt and freshly ground pepper, to taste
1 tablespoon lemon juice
3 tablespoons nutritional yeast
Place the basil, walnuts or pine nuts, and garlic in a food processor fitted with the S blade. Pulse to combine, until the mixture is coarsely ground. Turn the motor on and drizzle the olive oil in a thin stream. Add the sea salt, pepper, lemon, and nutritional yeast, and pulse a few more times to combine.