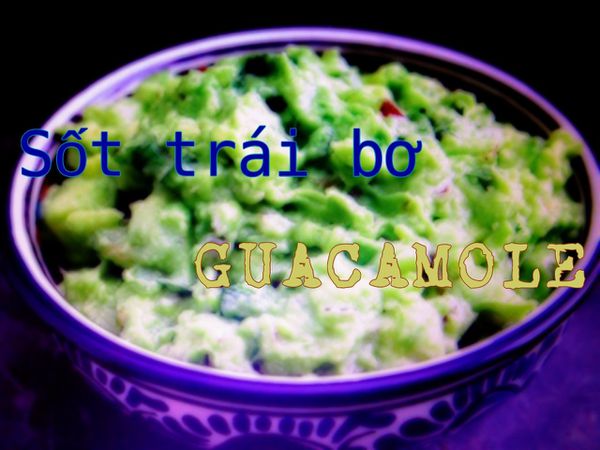 Sốt kem trái bơ (Guacamole) là một loại sốt kem có nguồn gốc từ Mêhicô. Sốt kem trái bơ làm chủ yếu từ quả bơ, vừa bổ dưỡng, vừa dễ làm, dễ sử dụng. Bạn có thể dùng để làm sốt trộn với mì, bún, sốt salad, để phết lên bánh mì, để làm sốt hamburger, ăn với bánh đa, bánh phồng tôm chay vv Sau đây là cách làm sốt trái bơ cơ bản, từ đó bạn có thể tùy ý thêm các loại rau thơm, gia vị, gừng, các loại rau củ xay nhỏ, sữa chua đậu nành, đậu phụ, vv...để có được sốt kem trái bơ với hương vị như mong muốn và phù hợp với từng món ăn.
Nguyên liệu:
1 quả bơ chín
1/1-1 quả chanh tươi
1 ít hành tím
1/2 quả cà chua chín
1 ít rau mùi
1/4 thìa cà phê muối biển
1 xíu tiêu ta
Cách làm:
Bổ đôi quả bơ, bỏ hạt, bỏ vỏ, lấy thịt bơ cho ra cái bát.
Băm nhỏ hành tím, rau mùi.
Cà chua bỏ hạt, bỏ vỏ, thái hạt lựu nhỏ xíu
Dùng thìa dầm nát quả bơ, rồi cho nước chanh vắt, xíu muối biển vào, đánh đều.
Cuối cùng trộn hành tím, cà chua, rau mùi băm nhỏ vào.
Đậy lại, cho vào tủ lạnh cho đến khi dùng.
Gợi ý:
- Có thể cho thêm ớt sừng đỏ thái nhỏ xíu.
- Thông thường, sốt Guacamole không cần dầm nát hết nhưng nếu muốn, bạn có thể cho các nguyên liệu vào máy xay nhuyễn.
*********
Guacamole, a dip made from avocados, is originally from Mexico. The name is derived from two Aztec Nahuatl words – ahuacatl (avocado) and molli (sauce). All you really need for guacamole is ripe avocados and salt. After that, a little lime or lemon juice—a splash of acidity to balance the richness of the avocado. Then comes chopped cilantro, chiles, onion, and tomato, if you want. You can also creat your own Guacamole with your ingredients upon to your taste and your meal.
Ingredients:
1 rip avocados
1/4 teaspoon sea salt
1/2 tbsp of fresh lime juice or lemon juice
1 tbsp of minced red onion or thinly sliced green onion
1 serrano chile, stems and seeds removed, minced
1 tablespoons cilantro (leaves and tender stems), finely chopped
A dash of freshly grated black pepper
1/2 ripe tomato, seeds and pulp removed, chopped
Method:
Cut the avocados in half. Remove seed, put the flesh with a spoon in a bol.
Using a fork, roughly mash the avocado. (Don't overdo it! The guacamole should be a little chunky.) Sprinkle with salt and lime (or lemon) juice. The acid in the lime juice will help delay the avocados from turning brown. Add the chopped onion, cilantro, black pepper, and chiles.
Cover with plastic wrap directly on the surface of the guacamole to prevent oxidation from the air reaching it. Refrigerate until ready to serve.


Tips:
- Remember that much of this is done to taste because of the variability in the fresh ingredients. Start with this recipe and adjust to your taste.
- Chilling tomatoes hurts their flavor, so if you want to add chopped tomato to your guacamole, add it just before serving.