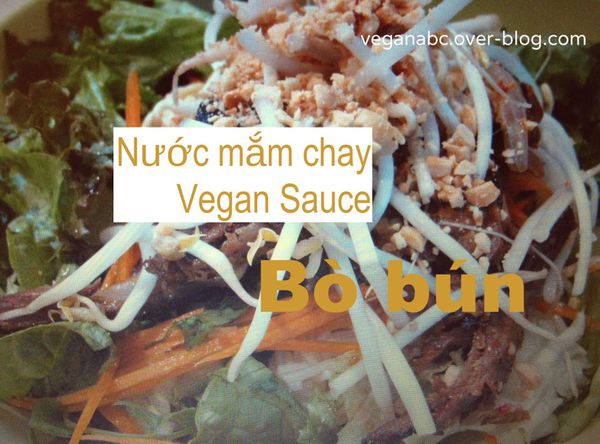 Công thức nước mắm để trộn bò bún như sau
Nguyên liệu cần có:
Nước dừa 1 trái
1/2 chén nước mắm chay
2 trái chanh
1/2 lon 7up
1 thìa canh đường nâu
Ớt, tỏi (nếu không kiêng)
Hòa đường vào nước dừa rồi đun sôi, để nguội
Vắt chanh lấy nước, hòa vào
Ớt tỏi bằm nhuyễn cho vào.
*********
Vegan Sauce recipe for vegan beef noodle mix (bo-bun)

Ingredients:
juice of 1 coconut
1/2 cup vegetarian fish sauce
2 lemons
1/2 can of 7up
1 tablespoon brown sugar
Chili, garlic (if not abstinence)
Add sugar to coconut juice and boil. Let it cool
Squeeze lemon forjuice, mixed in this liquid
Chilli garlic minced entered.