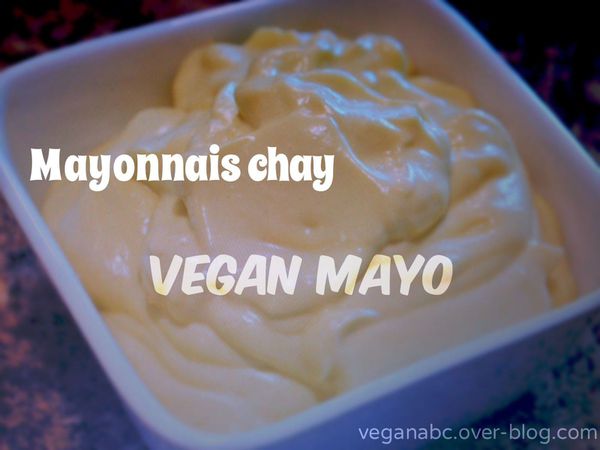 Sau đây là hai cách làm mayonnais chay: từ đậu phụ mềm (Cách 1) và từ khoai tây (Cách 2)
CÁCH 1: từ đậu phụ mềm
(Để làm cho 2 ly gần)

Thành phần:
300g đậu phụ mềm
1 muỗng canh nước
1/4 muỗng cà phê muối
1 muỗng canh nước cốt chanh
5 muỗng cà phê đường nâu
3 muỗng cà phê mù tạt dijon
1 muỗng canh dầu ôliu
3 muỗng cà phê dấm trắng

Cách làm:
Thêm tất cả các thành phần vào máy xay quay nhuyễn. Có thể cho thêm theo ý. Cho vào lọ thủy tinh và cho vào tủ lạnh ít nhất 1h trước khi dùng.
Bạn có thể làm cho mùi tây hoặc rau mùi vào mayonnaise hoặc thêm gia vị, hoặc cho thêm vị cay vv
Giữ trong tủ lạnh nhiều nhất trong 3 ngày
CÁCH 2: từ khoai tây
Thành phần
150 gr. khoai tây đã nấu chín và lột vỏ
2 c.s. dầu ăn hoa hướng dương
60 ml sữa đậu nành tự nhiên
2 c.s. đậu nành sữa chua tự nhiên (nếu có)
một chút muối
2-3 thìa canh giấm táo (tùy thuộc vào khẩu vị của bạn)
2-3 thìa canh nước chanh vắt
1 ít bột nghệ nếu bạn muốn màu đẹp
Cách làm:
Trộn khoai tây với sữa đậu nành, dầu ăn, một chút muối và nghệ nếu bạn muốn. Tiếp tục đánh đều cho đến khi kem mịn và đồng nhất. Cuối cùng và thêm nước cốt chanh và dấm táo và trộn một lần nữa. Cho mayonnaise vào trong một lọ thủy tinh và để vào trong tủ lạnh khoảng hai giờ sau khi nó đã đông đặc hơi cứng một chút sẽ ngon hơn
Có thể xem thêm cách làm sốt Mayonnais từ sữa đậu nành và từ sữa dừa ở đường dẫn này: Sốt Mayonnais không trứng., hoặc cách làm bằng bơ vừng (hoặc bơ hạt) và bột sắn tại Mayonnais thuần chay.
~~~~~~
Here is 2 Vegan Mayo recipes : from silken tofu (Recipe 1) and from potatos (Recipe 2):
RECIPE 1: (from Veggieful)
To make nearly 2 cups

Ingredients:
300g silken tofu
1 tablespoon water
1/4 teaspoon salt
1 tablespoon lemon juice
5 teaspoons brown sugar
3 teaspoons dijon mustard
1 tablespoon olive oil
3 teaspoons white vinegar
Add all ingredients to a food processor and blend until combined.
Taste and add more ingredients to your own taste.
Store in a jar in the fridge for a couple of hours.
You can add any other seasonings to your own desire. You could make parsley or coriander flavoured mayonnaise or add Mediterranean spices and make a spicy mayonnaise
It will last for about 3 days in your refrigerator
RECIPE 2: from potatos
Ingredients
150 gr. potatos already cooked and peeled
2 tps sunflower oil
60 ml of natural soy milk
2 tps of soy yogurt natural (if you have)
a little sea salt
2-3 tps cider vinegar (depending on your taste)
2-3 tps lemon juice (to taste)
1 pinch of turmeric if you wish to have a nice color
Method:
Mix potatos with the soy milk, oil, yogurt, a pinch of salt and turmeric if you wish. Continue to mix until smooth and homogeneous cream. At the end taste and add lemon juice and cider vinegar and mix again. Put the mayonnaise in a glass jar and place in the fridge for about two hours after it has hardened a bit and it will be even better.
~~~~~~
You can find some others ideas in this link:
3 recipes for homemade vegan mayonnaise
Mayonnaise is one of those household items that we continue to buy at the store, even though we can make it at home more easily, cheaply, and to our own specifications. Most of us just don't think ...
http://www.treehugger.com/easy-vegetarian-recipes/3-recipes-homemade-vegan-mayonnaise.html