Mắm tôm chay ăn với nhiều món ngon, dùng để chấm đậu phụ rán, ăn với bún đậu, chấm cà pháo, dồi chay, nêm vào bún riêu chay, ... thì thật tuyệt vời. Cách làm mắm tôm chay đơn giản và không mất thời gian.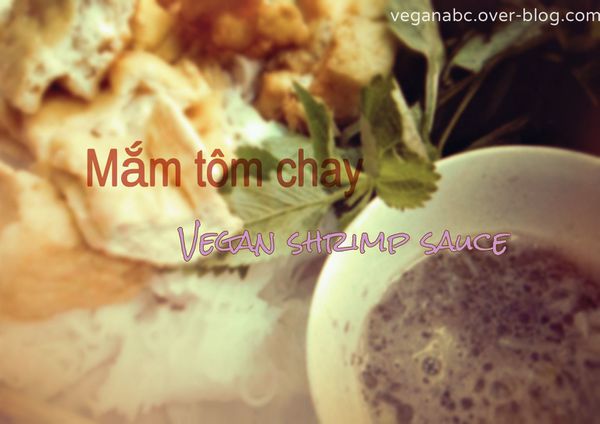 Nguyên liệu cần có là:
2 chén nấm rơm xắt nhỏ
1 hũ chao chùa
1 thìa muối biển
Cách làm:
Cho tất cả các thứ trên vào máy sinh tố xay nhuyễn, nếu đặc quá thì cho vào chút nước cho dễ xay.
Cho hỗn hợp vào nồi nấu sôi lại, xong để nguội cho vào hũ cất trong tủ lạnh ăn dần.
Khi nào ăn, múc ra chén nêm gia vị chanh, đường cho vừa ăn, hoặc dùng nguyên để nêm các món ăn.
~~~~~
Vegetarien shrimp sauce is very popular and may be served with fried tofu, added in the spicy vegan vermicelle, or rice noodle, ... Vegan shrimp is very easy to make. You need:
2 cups of mushrooms chopped
1 far of fermented tofu
1 tablespoon sea salt
Method:
Above all things into blender until smooth. You can add a little water for easy grinding .
Put into the pot to boil, then let cool for jar in the fridge to eat for longtimes.
Before serving, you can put in vegan shrimp sauce some lemon juice, and brown suger.